Discover a unique union of dignity and peace.
Town Kotor has been protected by UNESCO since 1979, and is the most visited place of Montenegrin Coast. Hybridization of streets, squares, sacred objects and galleries makes a stunning ambient for every visitor. Above the town, there are impressive cliffs which offer it a shoulder to lean on. Four kilometers of winding walls of the old fortification spread there. Each meter of climbing will reveal a more and more attractive panorama, and the one who gets to the end of the fortress and the very peak of the cliff will be awarded with a magnificent view. Blue inlets, rocky mountain wreaths, wide sea horizon and even wider sky above you will offer the unforgettable experience.  Further on, towards Perast, you will see the most beautiful part of Boka. A unique mixture of stone, rock and sky exudes as rare peace, dignity and grace as any other place here. The stone buildings of the ancient Perast are set one next to another, like beads along a narrow passage of the sea shore. This is the town of famous captains from Boka, which has for centuries been welcoming and accompanying guests at the very entrance of the Bay. Two little churches: St. George and Our Lady of the Rocks (Gospa od Skrpjela) float in the sea, not far from the shore, as if by some kind of a magic. The second one, full of culturally artistic showpieces from this place is open for the tourists.
Perast, Lady of the rocks, Kotor old town
Departure

Kotor (other locations on request)

Departure Time

On request (we recommend departure between 08:00 am- 09:00 am)

Duration

4 hours

Included

WiFi

Taxi boat to the island

Licensed guide

Transport

Museum ticket

Taxes
Departure to Perast
On the way to this baroque style little town, you will enjoy the fascinating landscapes of the Bay of Boka Kotorska.
Our Lady of Rocks Islet (Gospa od Skrpjela) visit
The boat will take us to the artificial islet where a long time ago, a small church had been erected. You will see numerous gifts that captains, sailors, fishermen, settlers and other visitors bring to the Lady. They find her to be their Angel "the Guardian". The most interesting presents are kept at the museum of the church. We will visit the museum, as well.
Tour of Perast
We will get to the town by boat, where you will have a chance to hear something about the local legends, the most beautiful palaces and a few century-old churches from your guide. In your free time, you will be able to explore the narrow streets and stairs, to take a look at the local peoples' yards and get some refreshment in one of the cafes on the coast.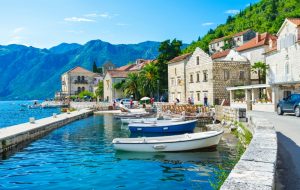 The return
The starting point of the Old Town can be your final destination to exchange your impressions with the old and new friends. Don't miss that chance!